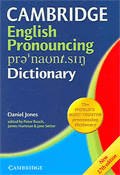 Review of the Cambridge English Pronouncing Dictionary (17th edition):
the Cambridge English Pronouncing Dictionary is useful in those situations where you have reasons to doubt your regular dictionary (or dictionaries). If the EPD lists a pronunciation first, it is probably the most common one. If the EPD does not list a pronunciation, it is probably quite rare.
If you're learning British pronunciation (RP), the exercises in the dictionary will help you learn the British sounds and their phonetic symbols. The dictionary will also give you easy access to British and American recordings and will let you practice imitating them with the voice recording feature.