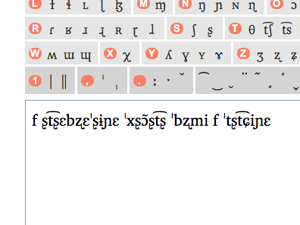 I have just rolled out a full IPA "keyboard" which lets you type IPA phonetic symbols for any language (not just English).
You will find it useful if you ever need to type phonetic transcriptions for a language other than English. You will also like it if you're a phonetics geek and always wanted to transcribe tree as [tʰɹ̥ʷiː] or heel as [ç̞iəɫ].
There are other online solutions for IPA input, but this one is easily the fastest, allowing both quick access to buttons and intuitive keyboard shortcuts. There is almost no learning curve — just hold Ctrl and press the letter that most resembles the IPA symbol you want to type; keep pressing the letter until you get the symbol you want.
You will need Windows Vista/7 or a third-party IPA font to see all the symbols. Works best with Firefox, Internet Explorer 8 and Safari on Mac.