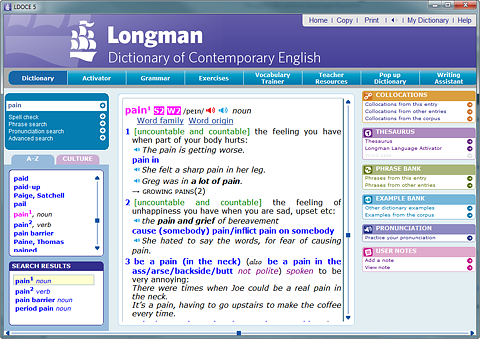 Since I wrote my enormous comparison of English dictionaries for learners, I've been using the LDOCE (Longman Dictionary of Contemporary English) for Windows as my main dictionary. And you know what? I can't stand the pain anymore.
Please, do I have to?
That's the thought that goes through my mind whenever I have to launch LDOCE to look up a word. Unfortunately, most of the time the answer is yes, because LDOCE really has the best content of all learner's dictionaries. It may be only slightly better than the rest, but I don't like to compromise on quality.
And boy, do I pay the price for my perfectionism. LDOCE takes so long to launch that by the time it has finished loading the hundreds of pointless megabytes from my hard drive, I can change the track in iTunes, check my mail, and have a good look at the front page of Reddit. The damn thing launches about as fast as Adobe Photoshop and sounds like a disk benchmark while doing it.
But once the wait is over, I get to look up my word, right? Well, not exactly. LDOCE has another hurdle for me to jump over: a pointless menu for choosing between the actual dictionary and a host of other marginally useful modules like Activator, Grammar or Exercises. It's as if the Google homepage showed you a menu with options like "Search", "Mail", "Maps", etc. before it showed you the actual search box.
I click "Dictionary", as I must have done at least 500 times in the past. The dictionary window finally appears. I quickly type up the word I want to look up. Unfortunately, the word is grow, so the entry will be long and I will have to scroll down.
Ah, scrolling in the LDOCE. What a mental exercise. If it doesn't kill you, it will make you stronger. Of course I am not talking about scrolling with the mousewheel or the trackpad on your laptop. That may work in your Web browser, your word processor, your e-mail application, or every single window in your operating system. Over at Longman, they scoff at such luxuries. LDOCE users have to scroll with their keyboards, perhaps to avoid offending less fortunate people, who cannot afford mice and trackpads.
So I press the down arrow key to effect an anemic scrolling motion reminiscent of the Star Wars opening sequence. You know, the one with the crawling text. If I hold down the down arrow for 1 second, the text moves by about 5 lines. If I hold it longer than that, the scrolling slows down to a near-standstill. You can tell that scrolling down is no mere trifle for this dictionary; it's serious work.
Interestingly, whereas the down arrow key is an 80-year-old on a wheelchair, the up arrow key is Usain Bolt on methamphetamine. Beware of pressing it for even the tiniest fraction of a second, or you will find yourself in entirely unfamiliar territory, possibly in a different entry. It's pretty much LDOCE's version of Wikipedia's "Random page" button.
What about PageUp and PageDown keys? Ah, yes. I saved them for last because the way they work is easily the most fascinating feature of the LDOCE. You might expect that, after you bring up a long entry, you can press PageDown to go to the next page. But that is not how things work in Longmanland. Before LDOCE will accept your keystroke, you are required to click in the entry area.
Once you fulfill this bureaucratic requirement, you can take advantage of rapid scrolling. But the moment you start using PageUp and PageDown, you realize why Longman has hidden this functionality from casual users. It is simply not for the faint of heart; in fact, I'm pretty sure it was designed by someone well-educated in the psychology of torture.
Let me explain. The first couple of times you press PageDown and PageUp, it usually works fine. Then, just as you've begun to think you're in control, you press Page Up one more time and whoosh — the text flies 5 screens up, and it's up to you to go back to the place you were at. The makers of the LDOCE clearly believe that knowledge should not come cheap.
I am reminded of what I wrote in my comparative review:
You could choose the Longman's great content and put up with its annoyances, or you could decide that efficiency and convenience are more important.
A software dictionary should be fast and pleasant to use. It should encourage you to learn new English words. The LDOCE does the opposite and I'm not sure it is something you can just "put up with". I'll let you know when I find a less painful solution. I'm currently experimenting with the online version of the LDOCE.
Added Feb 2013: They say you should take things into your own hands. But that's not true. Sometimes you can just do nothing and somebody else will solve your problems for you. In my case, that person was Taku Fukada, who wrote an amazing viewer app for the LDOCE, which is fast, easy to use and has a phenomenal search engine. Best of all, you can get it free. So get it.