If you're an English learner living in a non-English-speaking country, your English input will be different from the input of someone who lives in, say, America. A learner in America (assuming he interacts with people on an everyday basis) will get most of his input by listening to everyday, informal conversations between people. A learner in Germany or Brazil will get most of his input from "content" – books, movies, videogames, songs, Web articles, discussion forums, TV shows, podcasts, etc. – things that are printed, recorded and published somewhere.
It's hard to imagine learning English well without access to English-language content. Reading a book or watching a movie in English is an incredibly motivating and powerful experience that can produce a dramatic growth in the number of words, phrases and grammar structures that you can use.
However, there is a small catch. Relying on content can create a gap in your knowledge of "everyday English". You can read dozens of books, watch hundreds of movies and read thousands of Web pages, and still not know what to say when you're handing something to someone (There you go), how to say that your favorite show will be on TV at 5 pm (It's coming on at 5.), or how to use phrases like Looks like it, Fat chance or Dibs on the cake.
Why is that? Content has to be interesting. To be interesting, it often depicts unusual events (a secret mission, a war, a great love story) and unusual characters who speak in unusual language (Victorian English, inner-city slang, witty repartee). Only rarely do you get to see mundane activities like ordering food over the phone, discussing who will get the groceries after work, or complaining about the parking situation in the city.
Which brings us back to the difference between an English learner in America (whether a native speaker or a non-native who lives there) and an English learner in Germany or Brazil. A learner in America will be exposed to such "everyday English" expressions all the time. A learner in Germany will have a chance to hear them only occasionally.
Of course not everyone will want to improve their knowledge of everyday English. For example, if you are a scientist who uses English to write scientific papers and have technical discussions with other scientists, and you hardly ever have casual interactions in English, there may be no point in trying to become more like a native speaker.
But suppose you want to do something about your "everyday English" skills. What can you do? For one thing, you can choose content which contains a lot of casual conversations by contemporary people. For example, you would pick Desperate Housewives over Lost, Bridget Jones's Diary over The Alchemist, a podcast over an audiobook.
Another idea is to find a "dietary supplement" – a resource that contains lots of everyday English expressions – and use it to fill the gaps in your knowledge. I really like PhraseMix by Aaron Knight from New York. PhraseMix is a frighteningly well-made collection of real-world English phrases. Each phrase is presented in context, for example:
Your dog is chewing your shoe. You want to tell her to stop, so you angrily say: Bad girl! Let go of that!
or
You're getting into a subway car. The doors are going to close in a minute, so the train driver announces: Stand clear of the closing doors please.
You also get a little drawing (beautifully drawn by a graphic artist) showing the situation, like so: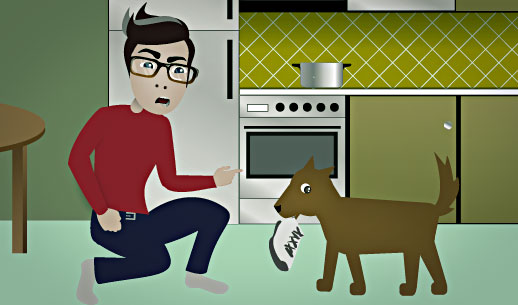 The context and the drawings are the main reasons why I like PhraseMix so much. People learn phrases most effectively in real-life situations and PhraseMix gives you something that's much closer to a real-life situation than a dictionary definition.
Right now, PhraseMix has more than 1,200 phrases, and Aaron updates the site with a new phrase almost every day. There is also a premium version ($7-$9 per month) which gives you access to a well-made recording of each phrase, which should make learning even easier.