As many of you know, in my 2009 review of English dictionaries for learners, the Longman Dictionary of Contemporary English (LDOCE) won in every content category. No other dictionary I tested has more example sentences, friendlier definitions, more accurate pronunciations, better coverage of American English or better-quality recordings.
But the dictionary has a fatal flaw: the software is awful. I had to write a cathartic rant about it just to keep myself from sending a mail bomb to the Pearson Longman headquarters. If you think I'm some kind of grouch with unrealistic expectations… well, yes, maybe I am, but that doesn't mean I'm wrong. Let me just list the most important problems: the 10-second start-up time, lack of mousewheel or trackpad support, slow and buggy scrolling, and pointless clicking required to do anything. In many ways, LDOCE feels like a university – lots of valuable knowledge, but hopelessly inefficient and full of pointless hurdles.
Enter Taku Fukada, an English learner from Japan. Like many other people, he read my dictionary review, decided to buy the LDOCE, and discovered that he hated using it. But, instead of whining about it like I did, he did what ninjas do: he silently solved the problem.
He took his ninja sword, cut through the jumble of bad design choices and poorly tested code, and built the awesomest dictionary application in the solar system, while making Longman and their contractors look like total asses. The Dark Ages are over! English learners can finally access great lexicographic content in a pleasant way. Can you tell I'm excited?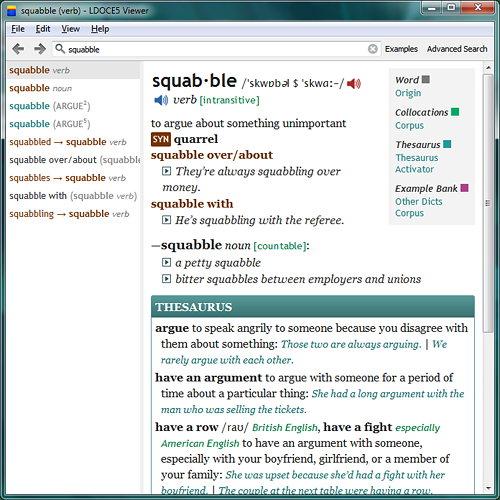 What's great about Taku's LDOCE5 Viewer
It's ridiculously fast – it's one of the fastest dictionary apps that I've used. It starts up in less than 1 second and goes straight to the search box (no useless "welcome screens"). Searches happen instantly, even for incomplete words.
No stupid limitations: Full support for mousewheels and trackpads. You can resize the window however you want. Copying works as you expect it to work (including phonetic transcriptions).
No useless junk on the screen: Just the search box, search results and the entry you're looking at. The entry layout is very readable, by the way.
No pointless clicking around: No need to click on the search box, just start typing a new word at any moment. Use your arrow keys to switch between different meanings of the same word.
Very complete search: It will find everything that includes your search phrase: headwords, inflected forms, collocations, phrasal verbs, idioms, etc. If it's in the LDOCE, it will find it. Instantly.
It supports all the content in the original LDOCE: phonetic transcriptions, word recordings, sentence recordings, additional examples, collocations, grammar boxes, thesaurus boxes, the Activator thesaurus, pictures. I think the only thing missing is the ability to record your own pronunciation.
With Taku's software, the LDOCE mops the floor with every other English learner's dictionary on the market. It's truly a killer combination of excellent content and excellent software. There is no doubt in my mind that the LDOCE with Taku's viewer is the best option for a serious English learner. I've been using it for the past two months and I can tell you I've never had so much fun with a dictionary. It is a sheer pleasure to explore word meanings, examples, and collocations with this app.
Taku's LDOCE5 Viewer used to cost $5.35. Now it's available for free. Of course, before you can use the viewer, you have to buy and install the original LDOCE with DVD-ROM, if you don't have it already. Right now, the cheapest way to get it online is on Amazon.co.uk (for £21, which is about $33). For some reason, the dictionary is much more expensive on Amazon.com.
(I received an e-mail from a user, asking if I'm the real author of the LDOCE Viewer, hiding behind a false Japanese identity. No, but when Taku sent me a beta version of his app, I loved it, so I decided to help him. Specifically, I helped with the visual design, provided user interface ideas, and helped write the product page for the app.)