In September 2010, I published Test your English pronunciation, a 10-question quiz which tests your knowledge of the basics of English pronunciation. Today, we're going to look at the results. How well do Antimoon visitors know basic pronunciation?
(Note: The report includes only visitors who declared that they are not native speakers of English. Repeated attempts were excluded, i.e. only the first attempt was taken into account. There were about 14,000 unique responses from non-native speakers.)
Overall scores
First let's look at the overall scores: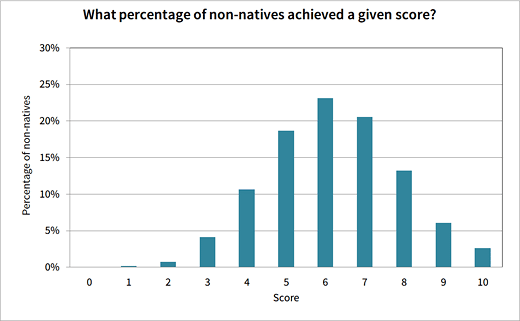 The mean (average) score was 6.19 out of 10. As you can see from the above chart, only about 3% of visitors got a perfect score. 58% got 6 points or less.
Is that good or bad? To answer this question, I bought some bananas, went to the Wroclaw zoo and ran the test on a group of monkeys. Here are the monkeys' results: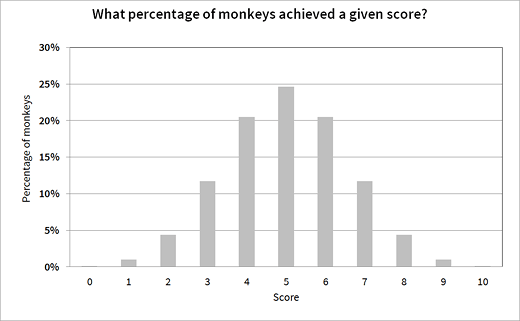 As the monkeys have no conception of English pronunciation, they were choosing their answers at random. Since each question had only two possible answers, the chance of guessing the correct answer is 50%. So, in a 10-question test, the mean score was 5 points.
As you can see, the Antimoon visitors were better than monkeys, but not by much (mean score of 6.19 versus 5.00).
Which questions were the most difficult?
Let's now take a look at the individual questions. What percentage of visitors answered each question correctly?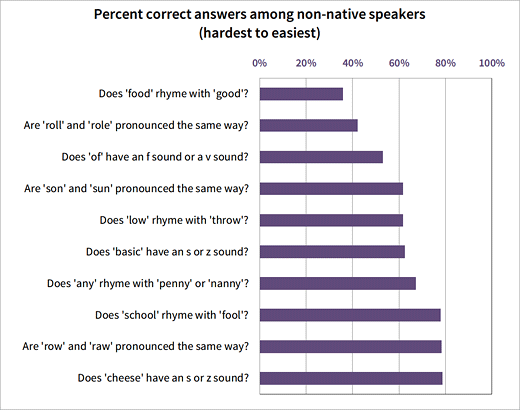 As you see, there was significant variation in difficulty between questions. The easiest questions were answered correctly by 80% of visitors; the hardest ones were answered correctly by only 40% of visitors.
Interestingly, for the most difficult questions ("Does food rhyme with good?" and "Does of have an f sound or a v sound?"), non-natives did worse than monkeys (who of course got 50% correct answers on every question). If our visitors had simply rolled a dice on these questions, they would have gotten them right 50% of the time – instead, they got them right only about 40% of the time.
This shows that, for the food/good and roll/role questions, visitors were not simply making random guesses. The problem wasn't lack of knowledge – the problem was bad knowledge.
Note: As of Dec 31, 2012, Test Your Pronunciation has been modified, so you can no longer take the test in the form described above.